ProxySG's High-Performance Hardware and Vigorous Object-Based Operating System Enable Robust Policy Control over Content, Users, Applications and Protocols.

Blue Coat has combined their visibility, acceleration and security technologies into a dynamic package they call the Application Delivery Network (ADN) infrastructure. Their ProxySG line of appliances forms the core of this solution. The SG delivers a scalable proxy platform that secures Web communications and accelerates the delivery of business applications.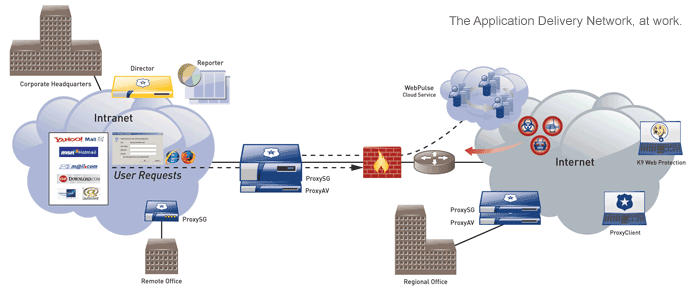 Blue Coat ProxySG Acceleration Edition
ProxySG appliances can be acquired standalone purely as an acceleration tool. Deployed at the core and edges of an enterprise's application delivery infrastructure, they use a variety of techniques to eliminate redundant data transfers and improve overall efficiency.
'Acceleration Edition' licensed ProxySG appliances offer a full WAN Optimization feature set that allows administrators to:
Accelerate internal, external and real-time application performance for branch and mobile users
Significantly reduce bandwidth use with sophisticated compression, byte caching and object caching technologies
Accelerate application performance over the WAN by mitigating the penalties that latency imposes on inefficient protocols or applications originally architected for the LAN
Dramatically accelerate web application and workflows that depend on centrally-stored files by delivering remote content locally in the branch
Reduce the effects of latency (and bandwidth consumption) caused by repetitive data elements--even across disparate applications
Reduce the effect of latency for any compressible data transiting the WAN
Prioritize enterprise-critical data flows over bulk-data or recreational traffic flows
Introduce stream splitting, video pre-population and video caching (reducing bandwidth consumption as much as 99.99%)
Optimize mobile and home users with Blue Coat ProxyClient.

Blue Coat ProxySG Full Proxy Edition
Blue Coat's full benefit comes from the integrated optimization and security products that make up the ADN. Proxy AV (anti-virus), WebFilter, Reporter and Director form a complete solution that is simple to administer and that scales to meet global enterprise needs.
ProxyAV Appliances
Combined with ProxySG (Full Proxy Edition), ProxyAV provides inline threat protection and malware scanning of Web content at the gateway. It's an integral element of what Blue Coat calls their layered defenses security framework. The unique, high-performance architecture of ProxyAV combined with frequently updated anti-malware engines (leaders Panda, Sophos, McAfee, Kaspersky) efficiently secure network traffic and protect users from Web-borne threats.
ProxyAV supports four modes of content analysis and can be configured to analyze both inbound and outbound traffic. Options include setting of time-out duration, drop file if errors in detection occur, and define trusted sites. Admins can set policies for allow/deny lists encompassing extensions along with file size and content type restrictions. They can also customize alerts and log files.
ProxyAV communicates with ProxySG via ICAP(S), a high-functioning, standards-based protocol. The multi-core architecture of ProxyAV combined with load balancing and clustering technology boost performance to 1Gbps throughput ensuring high-availability Web gateway deployments.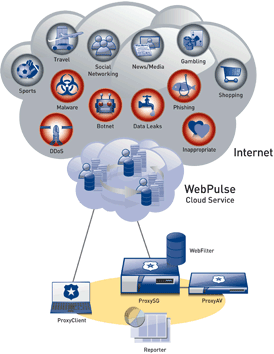 WebFilter with WebPulse
A second component in Blue Coat's layered defenses framework, WebFilter is the next generation of Web content filtering, created by combining URL filtering and anti-malware technologies into a collaborative cloud defense. WebFilter receives continuous updates from the WebPulse community, a group of more than 62 million users that provide more than 7 billion ratings drawn from the largest enterprise and service provider networks around the world.
WebPulse uses Dynamic Link Analysis (DLA) to check popular Web sites for attack injections and search engine results for bait pages, both leading to Web threats via dynamic links. WebPulse has eight operation centers to support cloud defense analysis of more than 2 billion Web requests per week.
Web gateways and remote clients detect and send new Web content or links in real-time to the WebPulse cloud for DLA inspection. Updates to the master WebFilter database provide immediate protection.
WebFilter blocks malware, Web threats, fake software updates, fake AV offers, phishing offers and botnets or keyloggers calling home.
DLA inspection allows users access to popular Web sites and avoids over-blocking.
The appliance provides Web 2.0 filtering for mashed-up or customized web portals, blocking panels and dynamic content according to policy settings.
The solution provides coverage in more than 50 languages using proprietary machine-analysis knowledge algorithms and human raters.
WebFilter integrates with Google malware feeds and other third party ratings for Web threats, phishing, scamware and content ratings.
Blue Coat Reporter
Reporter goes far beyond URL filtering to give managers powerful visibility into all Web-related activity—down to individual users and applications. At-a-glance dashboards and reports plus pinpoint drill-down capabilities make it an invaluable part of security, compliance, bandwidth management, and other business-critical efforts.

Reporter rapidly processes robust log data from Blue Coat ProxySG, WebFilter, ProxyClient, and ProxyAV, providing easy-to-view reports for security specialists, department managers, HR managers, and network administrators. Blue Coat Reporter permits administrators to:
Deliver customized, role-based dashboards and reports to different managers
Quickly drill down from general trends to specific activity
Efficiently process even the largest logs, while minimizing disk space requirements
Distribute and automatically update comprehensive views of Web activity in a variety of formats
Provide visibility into Web traffic performance, trends, errors, security threats, bandwidth impact, streaming traffic levels and more.
Blue Coat Director
Director delivers centralized policy, configuration and device management of Blue Coat ProxySG appliances across any distributed enterprise. From a single, easy-to-use Web interface, administrators can deploy, monitor and enforce security and acceleration policies on hundreds of appliances deployed worldwide.
With Director, IT administrators develop ProxySG locally and distribute globally, creating an intricate location-based policy hierarchy. Director eases ProxySG deployments with remote (Web) access to the management console, high availability configuration and automatic backup and archiving.
With Blue Coat Director, administrators can:
Centralize policy management and software updates across a ProxySG deployment
Provision new devices in five minutes or less
Simplify maintenance through automated job scheduling
View detailed reports on health, job status and results.
Virtual Appliance Edition
Blue Coat's ProxySG Virtual Appliance is a software version of the ProxySG Acceleration Edition. It provides WAN Optimization on industry standard servers for branch offices. It reduces bandwidth consumption and accelerates application performance, enabling innovative branch office consolidation.
ProxySG VA can deliver local applications and Microsoft Server 2008 services, allowing organizations to reduce the number of servers and centralize storage and backup, dramatically reducing the operating and capital costs for rich branch office infrastructure.
Powerful x86 multi-core server systems with excess capacity combine with virtualization to enable you to deploy almost ANY business application or service at a branch. ProxySG VA:
Accelerates application performance over the WAN by mitigating the penalties that latency imposes on inefficient protocols or applications originally architected for the LAN
Dramatically accelerates Web application and workflows that depend on centrally-stored files by delivering remote content locally in the branch
Reduces the effects of latency, and significantly reduces bandwidth consumption eliminating repetitive data elements
Diminishes the effect of latency via compression
Prioritizes enterprise-critical data flows above bulk-data or recreational traffic flows.