Is there an easier and more secure way for my users to transfer files than FTP, email, burning CDs or sharing thumb drives?
The Secure File Transfer System That is Easy-to-use and Easy-to-maintain

There is a better alternative than using FTP, email, CDs, thumb drives, same day and overnight delivery services for transferring files securely. FTP is not user-friendly. Email does not lend itself to large file transfer. CDs and thumb drives can be lost. Courier service is slow and increases the risk of files being lost.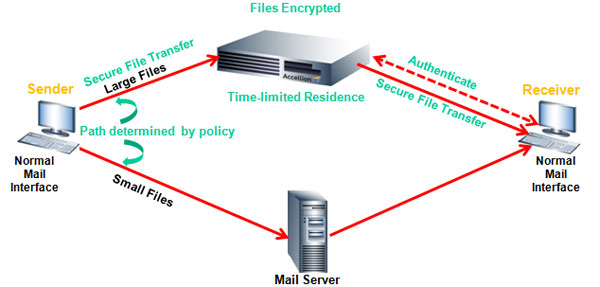 These alternatives do not meet today's security and compliance requirements. Accellion provides a file transfer system that is secure, easy-to-use and easy-to-maintain.
Easy to Use:
Integrates with Microsoft Exchange/Outlook and Lotus Domino/Notes
Provides an easy-to-use web interface
Allows for ad hoc file transfers, 24 X 7
Handles up to 20 GB of electronic files and folders
Allows for use by authorized personnel outside the organization
Security & Compliance:
Transmits files via secure channels and protocols
Allows for encryption of sensitive data
Provides recipient authentication
Provides receipt verification
Supplies audit trails for who sent and received the files, and when the files were retrieved
Ensures complete delivery of information even in the event of a transmission disruption
Easy to Install & Maintain:
Appliance installs in a network in less than an hour
Easy integration with Microsoft Active Directory or an LDAP directory
Easy to install plug-ins for Microsoft Exchange/Outlook and Lotus Domino/Notes
Provides a secure, easy-to-use web interface for non-Microsoft/Lotus users
File residence on Accellion appliance is time-limited
Offloads storage requirement for email servers
IT support not required for file transfer, cleaning the server or enabling authorized outside users
Multi-office configurations available