One Little Box Delivers Deep Packet Visibility, Precise WAN Traffic Management and Intelligent Acceleration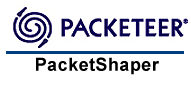 Packeteer was the pioneer at the leading edge of traffic shaping technology when Blue Coat acquired them in 2008. The PacketShaper complemented their lineup of secure proxy gateways and content filtering solutions. Blue Coat constantly works to improve and integrate the technologies to provide superior network optimization, prioritization of applications and data types, reduced operating costs and security filtering at wire speed.
Blue Coat's PacketShaper delivers integrated visibility, policy administration and data compression capabilities in a single appliance. With PacketShaper, network administrators can
identify all the applications on the network
monitor response times and utilization at the application level
regulate traffic to optimize application performance with granular quality of service (QoS) controls
increase WAN capacity through application-specific compression techniques.
Monitoring Module
The PacketShaper provides an accurate, actionable picture of network traffic. Administrators can quickly troubleshoot performance issues, identify threats, prioritize latency-sensitive applications by throttling non-critical traffic and develop more balanced usage policies over time by arranging historical data in highly customizable reports.
"We knew that visibility was more important to managing our network than raw acceleration. It's more important for us to see the traffic and then be able to handle it intelligently than to simply accelerate everything without understanding what we're speeding up."

Michael Shisko
Director of IT at Hitachi Consulting,
Florance and Associates Customer

Read the Case Study
See the Video
PacketShaper monitoring empowers administrators to:
Classify more than 600 applications on the network with Layer 7 Plus technology
Audit utilization and performance by links, users or applications
Track application response times, isolate performance issues and identify server- or network-related issues without agents
Monitor service-level agreements (SLAs) for critical applications or links
Diagnose and troubleshoot application issues: connection profiling and server responses (TCP health), network efficiency, traffic captures, traffic forensic history and more
Monitor hierarchical frameworks, with granular views of peak and average utilization rates, bytes, availability, utilization, top talkers/listeners and more.
Shaping Module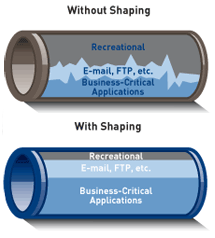 Blue Coat's PacketShaper leads the industry in powerful and flexible policy-based control. Admins can ensure latency-sensitive, business-critical applications the bandwidth they need for peak performance. With easy to set parameters like priority, minimum and maximum bandwidth and per-session guarantees, PacketShaper can deliver total QoS.
PacketShaper traffic shaping enables IT to:
Ensure business-critical applications have the resources they need to operate effectively over the WAN and Internet
Prioritize more important applications over less important ones and provision per-call or per-session bandwidth for critical applications
Use the Shaper's patented TCP rate control to determine the sending rates of computers at the far end of the network and deliver bi-directional QoS
Minimize network congestion, queuing latency and inefficiencies that hurt application response times between remote locations
Cap or block recreational applications, like P2P
Mark packets with prescribed DiffServ, IPTOS/Precedence, MPLS tags, VLANs and others
Suppress DDoS, virus and worm propagation, finding and stopping infected PCs and tracking every flow through the network.

Compression Module
PacketShaper increases WAN capacity, improving application performance and user response times with application intelligent compression. Users can reduce bandwidth usage and minimize WAN latency employing the optimal compression algorithm for each application. PacketShaper also directs added capacity from virtual bandwidth to the highest priority applications.

PacketShaper's compression technologies allow managers to:
Increase WAN capacity utilizing the same physical links, taking advantage of application-specific compression from high efficiency, low-latency algorithms, packet packing, MTU management and header compression
Improve application performance and responsiveness by getting more critical traffic through constrained WAN links
Automatically and intelligently select what traffic to compress and which technology to provide maximum optimization
Auto-configure with Active Tunnel: set up tunnels between devices and maintain reliability of compression exchanges without any manual configuration.
Blue Coat PolicyCenter Software
Blue Coat's PolicyCenter centrally manages the configuration, policy management, software distribution and adaptive response tracking of multi-unit deployments. PolicyCenter ensures that application performance and bandwidth utilization stay aligned with the changing demands of business, whether for several appliances located at one site or thousands of appliances distributed globally.
PolicyCenter permits network technicians to:
Manage up to 600 PacketShaper deployments through a single, intuitive interface
Automatically deploy and configure remote appliances in minutes
Apply customized policies based on location, function or other criteria
Scale IT resources to reduce overhead and total cost of ownership.
Blue Coat IntelligenceCenter Software
IntelligenceCenter simplifies enterprise-wide performance management with centralized monitoring, network forensics and insight into network applications and their performance.
By collecting, correlating and reporting on business critical applications, IntelligenceCenter empowers IT organizations to:
Provide reports on application and network utilization
Ensure business critical applications meet service level agreements (SLAs)
Track Voice over IP (VoIP) performance levels
Quickly identify and diagnose performance problems
Identify rogue applications on the network.

Hardware Extensions
Organizations can extend PacketShaper across the enterprise, meeting the demands of complex corporate topologies and unique deployment criteria with hardware extensions. For example, LAN Expansion Modules (LEM) support multiple LAN and switched environments, connecting multiple LANs or switch ports to a single appliance.